Eternal Life in the Kingdom of Heaven
1Timothy 2:4 & John 14:6
God "desires all people to be saved and to come to the knowledge of the truth", and Jesus Christ is that truth.
Jesus said "I am the way the truth and the life, no one comes to the Father except by me".
Out of his great love for us, God created us to share in his blessed life. He continually calls mankind to seek him and to love him. Through his son Jesus, he wants us to become his children.
Jesus invites you to share in eternal life with him. Matt 11:28-30
"Come to me, all you who labour and are burdened, and I will give you rest. Take my yoke upon you and learn from me, for I am meek and humble of heart; and you will find rest for yourselves. For my yoke is easy, and my burden light."
Again Jesus says
" I am the good shepherd. The good shepherd lays his life down for the sheep". John 10:11
Is there really a God who loves and cares for us?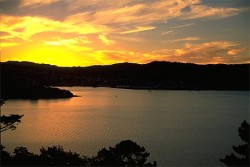 This is a question asked by many throughout the centuries. Many people have had doubts and don't believe in God. Have you ever looked at a beautiful sunset, a glistening moon, peaceful ocean, flowers, birds or animals and wondered where did it all come from? These questions are the beginning of the search for truth.
Rom 1:19-20
"For what can be known about God is evident to them. Ever since the creation of the world, his invisible attributes of eternal power and divinity have been able to be understood and perceived in what he has made. As a result they have no excuse."
How sin separates us from God
We were created by God through his love so that we may have a personal relationship with him. Because we were created with free will, man was given the choice to love God and follow him or for mankind to go his own way. Man chose to disobey God and all of us are separated from God because of our sinful nature. A sin is a willingness to separate ourselves from God, as a result of any act, or thought contrary to God's loving will for us. We have chosen to exclude God from our lives and from our hearts.
God never changes. He is good and holy. He is "too pure to look upon evil",Hab 1:13
Because God is just and fair, he must punish sin, and that punishment is death: eternal separation from God. God cannot fellowship with sin so sinners are separated from God. Because God is love, light, and life, separation from God means separation from all love, light, and life.
God made a way for each of us to be saved. He sent his son Jesus to die for our sins, that we may have eternal life in him, with God!
John 3:16
For God so loved the world that he gave his only son, that whoever believes in him should not perish but have eternal life.
So the good news is: God is just, therefore he must punish sin, yet because he loves us, he does not want us to suffer being separated from him. To resolve this matter, he sent his only beloved son, Jesus as a sacrifice to pay the penalty for our sin by death on the cross, so that we would not have to pay that penalty of death ourselves. So eternal life with God is being offered to us. Christ died in our place, but because he was just, God was able to resurrect him from the dead and so God will resurrect all who are  in God.
1Corinthians 15.22
"For as in Adam all die so also in Christ all shall be made alive"
Jesus is The Way
Romans 10:9
If You confess with your lips that Jesus is Lord and believe in your heart that God raised him from the dead, you will be saved.
John 14:6
Jesus said, "I am the way, and the truth, and the life. No one comes to the Father, except through me."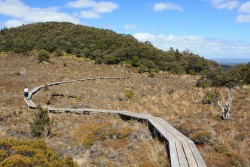 During his life on earth, Jesus began his ministry with his 12 apostles, performing miracles and spreading the Good News, to all who believed, he made children of God. He is the awaited messiah which men and women have been waiting for since the creation of the first people. He is the savior of the world, the lamb of God who takes away the sins of the world. While we were still sinners, God sent his only beloved Son to suffer for our sins by dying on the cross. Because of Jesus' sacrifice, we have been made sinless.
God, forgetting our sins, has separated us from our sin as the East is separated from the West, "because the blood of Jesus his son cleanses us from all sin." 1 John1:7
Three days later he rose from the dead, and appeared to many to preach the Good News. After 40 days he ascended into heaven, but he did not leave us alone. With us he left the Holy Spirit. Jesus will never leave us. He will be with us always. And, at a time no one knows, he will return again in all his glory. And everyone will hear His great and wonderful voice proclaiming throughout all the heavens and the earth,
"Behold, the dwelling of God is with men. He will dwell with them, and they shall be his people"
Revelation 21:3
How to receive salvation
Salvation is through entering the Kingdom of God and Jesus is the door. "..I am the door of the sheep" Jn 10.7 Jesus also said" unless one is born again of water and the Spirit he cannot enter into the Kingdom of God." John 3:5 and He also said "He who has believed and been baptised shall be saved" Mark 16:16.

Throughout the Book of Acts we see the apostles obeying this command and baptising believers into the Kingdom in the name of Jesus. Here is a guide and some advice for what you can do now.
Acknowledge that God exists and is a rewarder of those who seek him.
Believe that Jesus is the messiah and the Son of God who became man for our sake.
Acknowledge that you are a sinner and repent of your sins and false beliefs.
Find a church or a baptised believer to help you undergo baptism in the name of Jesus.
When you are baptised into Jesus, you will be able to ask your Father God for the gift of the Holy Spirit to help and guide you into all truth.
You should read your Bible and learn more about God.
It is important to meet and fellowship with other Believers as they are the Body of Christ on earth. They should encourage you on your new path.
Learn to pray daily to your Father in Jesus name.
Live as a decent, kind, and friendly person sharing the love of God in all you do.
1 John 2:17
"The world and its desires pass away, but the man who does the will of God lives forever".
When we follow God we must also be prepared to endure some persecution. The world is at enmity to God, so those who belong to this world will at times persecute you. It is an honor to suffer persecution for God and all those who suffer because of there faith in God will be richly rewarded.
I personally encourage you to give your life to God as He is the only one you can trust and He knows you better than you know yourself. He is the only one that can give you life eternally. No one else can give you life, no one else can fulfill your heart's desire, and no one else can love you the way God does. His love is eternal and  you can never exhaust God's love. He loves you beyond anything you can understand.
He really wants you to be his son or daughter and spend eternity with Him in his Kingdom. If you are willing to turn from your sin and serve the one true God then it really starts with a decision from you. Its simple. You can pray to the Heavenly Father in your own words, and cover the points mentioned above. Tell him that you want to turn from your sin and turn to him and do his will rather than your own. Of course you have to mean what you are about to pray. If are not sure what to pray, then you can try the prayer below. Remember that this is just the start. Your salvation depends on your ongoing faith in God. This is not about saying a prayer today and forgetting about it tomorrow.Only pray if you are serious about getting right with God.
Pray to God
Dear Heavenly Father.
I come to you in the name of Jesus.
I ask you to forgive me from my sin as I forgive everyone who has sinned against me.
I believe Jesus is the Son of God and He died for my sins.
I declare to you that I will endeavor to serve you and obey you for the rest of my life.
I ask for your strength right now so I will not fall back into my old life of sin.
I will serve you Lord starting from now and I pray that you would help me to hear your voice, so I can be led by your Spirit.
Please save me from temptation and deliver me from all evil.
I ask you Father for the strength to love you more than anything else.
I also ask you Father that you help me meet the right people that will help me and encourage me to love and serve you more.
Amen
If you were serious about what you just prayed about, then you have officially invited God to guide you in the ways of life and to perfect you. It is now important to seek God's will for your life each day. There is no limit to how much God can do in your life if you are willing. To follow God's will effectively, you need to be able to communicate with him. You need to hear him and you need to speak to him. God speaks to your spirit as he is Spirit himself. Listen to what God is saying in your heart, sometimes he is that small still voice, that is often drowned out by the cares of this world. He can often be heard when all is silent and there are no distractions. Also, listen to your dreams, he speaks through them too. Finally, listen to those whom he may send you way. He speaks through people. As time progresses, you will learn to know his voice. You only need to listen.
Jesus said in John 10:27
My sheep listen to my voice; I know them, and they follow me.
Learn to hear his voice. Pray each say for this. I wish you the best adventure that is possible for you. God knows you because he created you. Let him guide you and he will fulfill the desires of your heart. I can personally testify that God will do this in your life if you are willing to serve him.
For encouragement, I would like to point you to the promise that awaits all who belong to God. God showed this to me personally, but you can also read similar accounts in the Bible.