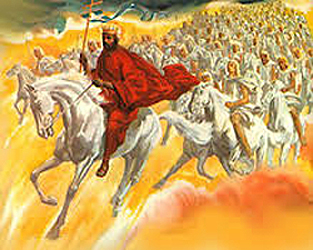 We know that God created all things through his Word.
John 1:1-3
In the beginning was the Word, and the Word was with God, and the Word was God.  He was with God in the beginning.  Through him all things were made; without him nothing was made that has been made.
1 John 1:1-3
That which was from the beginning, which we have heard, which we have seen with our eyes, which we have looked at and our hands have touched—this we proclaim concerning the Word of life. The life appeared; we have seen it and testify to it, and we proclaim to you the eternal life, which was with the Father and has appeared to us. We proclaim to you what we have seen and heard, so that you also may have fellowship with us. And our fellowship is with the Father and with his Son, Jesus Christ.
However, it is also written that God made all things through his son.
Hebrews 1:2
but in these last days he has spoken to us by his Son, whom he appointed heir of all things, and through whom also he made the universe.
Colossians 1:15-17
He is the image of the invisible God, the firstborn of all creation. For by Him all things were created, both in the heavens and on earth, visible and invisible, whether thrones or dominions or rulers or authorities– all things have been created through Him and for Him. He is before all things, and in Him all things hold together.
1 Corinthians 8:6
yet there is for us only one God, the Father, who is the Creator of all things and for whom we live; and there is only one Lord, Jesus Christ, through whom all things were created and through whom we live.
There seems to be a direct link with the Word and the Son in the above verses as both are said to be the agent by which God created all things. Or did God make all things through his Word as well as the Son? If there was a time when there was only God and his Word as we read in John 1:1-3, then know that Jesus is not only described in similar terms as that Word but that he is actually called the Word of God too.
Revelation 19:13
He is dressed in a robe dipped in blood, and his name is the Word of God.
It seems that with God making all things through his Word, through his Son, and even through Wisdom, this either means that these are all different agents, thus God invoked a number of things to create the Universe, or they are one and the same, i.e., the Word is Jesus Christ before he was called Jesus. Christ.
We are told that the Word became flesh and that is an obvious reference in a book devoted to Jesus Christ in a passage of scripture about the origins of Jesus Christ. So this either means that Jesus was newly created from the Word as some teach or that he is the Word but took on another form, that of flesh when he came to earth. The latter seems the more likely explanation given that God created all things through the Son and the Word and that Jesus Christ is even called the 'Word of God'.
Even if there were no direct references for Jesus being the Word of God, there would still be a whole raft of other verses to contend with. These verses speak of Jesus existence before he came as a man (outside of mentioning the Word).
"Before Abraham, I am"

, – John 8:58

"to the only God our Savior be glory, majesty, power and authority, through Jesus Christ our Lord, before all ages, now and forevermore! Amen."

 – Jude 1:25,

He is before all things, and in him all things hold together

–  Colossians 1:17.
etc.
Finally, we are told to not trust in the flesh, so if Jesus is only flesh, then should we trust him? After all we are explicitly taught that we are cursed if we trust in man. When we trust Jesus, are we trusting in man or the Word of God?
Jeremiah 17:5
This is what the LORD says: "Cursed is the one who trusts in man, who draws strength from mere flesh and whose heart turns away from the LORD.
For more on this subject try this writing:
Did Jesus pre-exist before his birth on earth